For those of you who prefer the active lifestyle or who like to move for a change, here are some suggestions and opportunities in Coron and Busuanga:
Kayaks can be rented in several places in Coron town. Some of them are reportedly Two Seasons resorts, Coron Divers, and Seadive resort, but also inquire in  the hotel where you are lodging or ask the tourist information. Kayak tours are according to our friends, the "best ever". Well, that depends on your strength and stamina, but for those of you who have and can combine it with a sense of adventure, it is one of the nicest way to discover Coron island and the surroundings.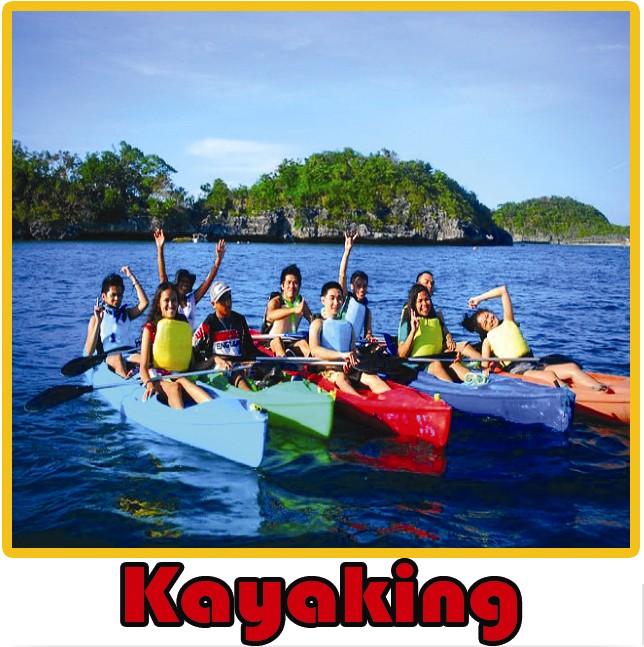 pic from corondivers.com
Here is a report from one of the recent guest (httpss://www.tripadvisor.de/ShowUserReviews-g729733-d1718243-r120489076-Coron_Bay-Coron_Busuanga_Island_Palawan_Province_Mimaropa.html):
>> You are on vacation, so you of course can be excused for being lazy. That said, if you wish to have a little energetic adventure, hire a two person kayak and set out from Coron City across the bay to Coron Island. This adventure took a friend and I a full day, setting out at 9am, we were back in Coron Town around 5pm. It was quite the adventure, and something I will do again when I go back to Coron.
What you need: A companion, a kayak, pesos, suntan lotion, hat, light long sleeve shirt, snorkeling gear, water shoes, water, snacks, and a sense of adventure.
Where to go: Once you rent a kayak, Sea Dive Resort has some, paddle east of the town past the ferry dock, hugging the coastline til you come close to two little islands that lie between Busuanga Island and Coron Island. Cut directly south across the channel to the NW side of Coron Island.
Then hug the shore line of Coron Island and slowly work your way South-West down the NW side of the island to visit: Kayangan Lake, Barracuda Lake, Twin Lagoon, Banol Beach and Skeleton Wreck in that order. You can of course stop anywhere else along the way to explore hidden coves and snorkel on silent reefs away from the crowds.
Depending on how you feel you can either Kayak back from Banol Beach, 5.5 km back to Coron Town, which should take less than an hour, or bargain with a trimaran owner and hitch a ride back.
Do protect yourself from the sun…. my friend and I got burnt even though we covered up and used suntan lotion all day. <<
Also check this out if you REALLY got what it takes: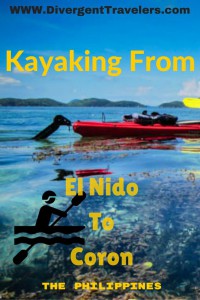 A great idea for those who love their horsies (or want to feel like John Wayne). Here are some impressions and links:
https://www.kokosnuss.info/activities/horseriding.htm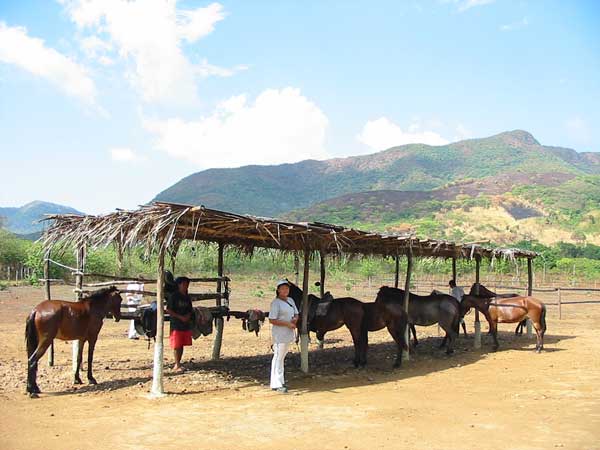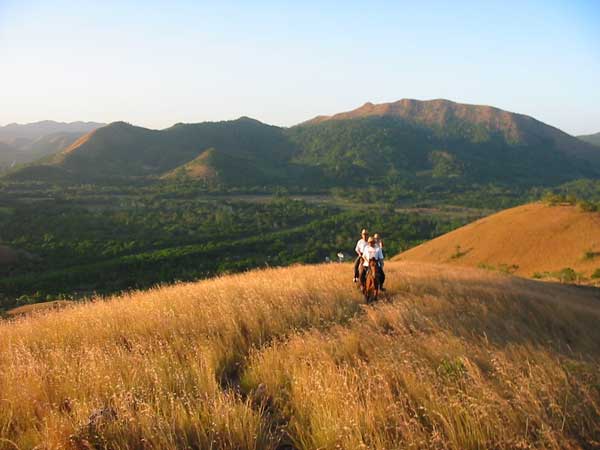 Bicycle Riding / Mountain Bike Riding / Offroad Trial Biking
Want to go off-the-beaten path? Rent a mountain bike at one of the town's shops and explore Coron's backyard at your own pace. You'll be traversing a lot of dirt roads, but the scenery that awaits you—from beaches and mangrove forests to waterfalls and rivers—will make it all worthwhile. Just don't forget to take a look at the suggested routes posted in most shops before you head out.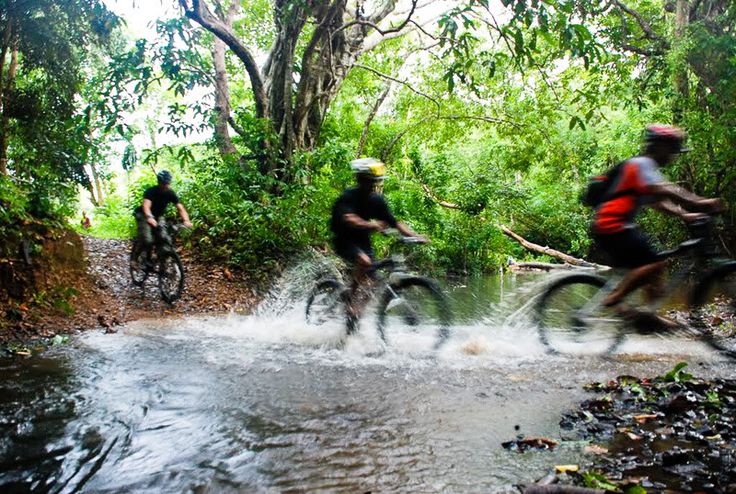 Blog of Pedro Blasco:
If you are a cycling or mountain bike lover, don't miss the chance to cycle around Coron. There is a shop with good new mountain bikes for rent. I rented a bike one day to go for a ride and ended up riding for 70km. There are nice short rides around Coron Town and you can stop at Maquinit Hot Springs for relaxing after the ride. The tricycle to the Hot Springs costs 300P and renting the bike for half a day is the same price. For those who are fit and practise cycling or mountain bike, I recommend you to ride to Decabobo, in the north coast.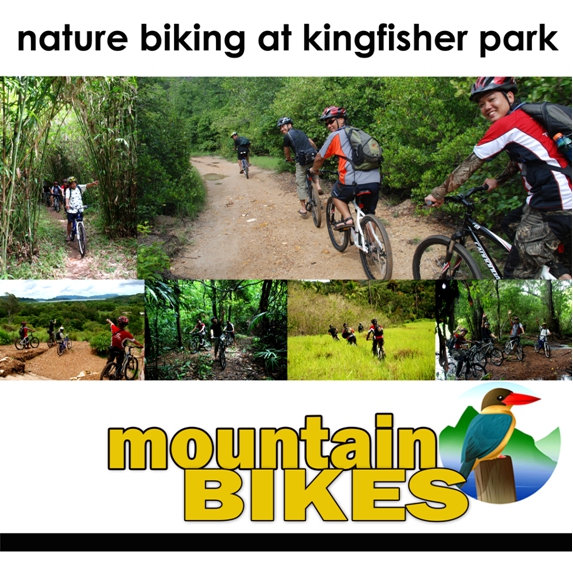 Exploring /Rock Climbing / Deep Water Soloing
Breathtaking, stunning, adventurous, … are some of the adjectives to what we are describing here. Ominous walls of jungle-covered black karst erupt from the surrounding turquoise seas. Jagged and spectacular, Coron Island is the ultimate karst showpiece. The place is pure magic.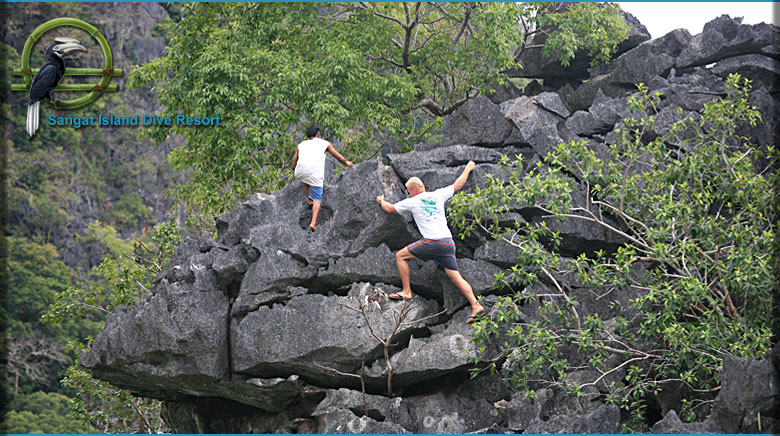 Arete, Coron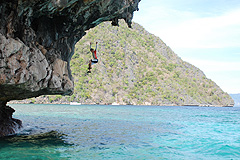 Deep Water Soloing in Juju Island – just click the picture for a report.
For the not so claustrophobic among us. It is especially true when you check out the chapter about scuba diving in caves, yet even here in "plain air" it can be scary to climb around the stalactites and stalagmites. Please investigate on guided tours with the friendly staff at your accomodation.
Here are just some impressions
Running on the sand on one of the beaches near Coron provides a soft running surface, and a spectacular view. Your run on the beach can be extremely challenging—especially if you run in deep sand. Or, it can be just as mellow as a run on a flat trail.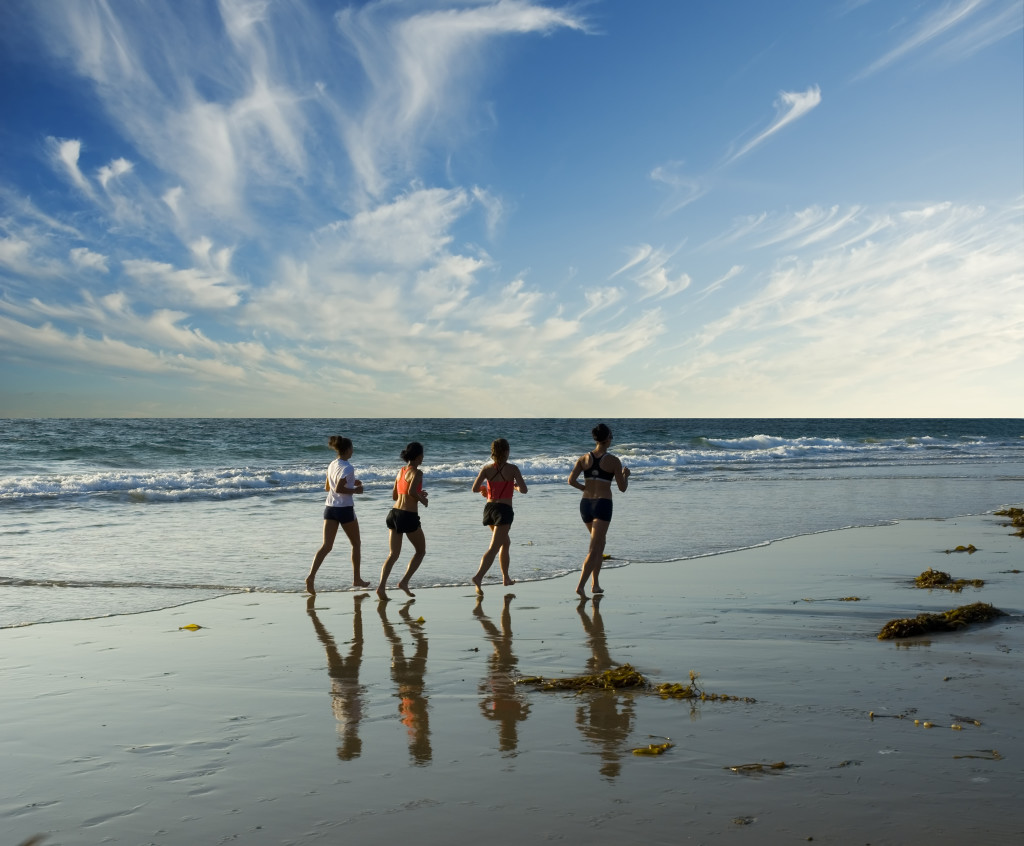 Here are some beach running tips to help you enjoy your next jaunt by the sea:
Check the Tides
A low tide creates the most level, hard-packed surface for running. As the water ebbs, it leaves hardening sand behind that's still forgiving—like a soft trail—underfoot. Ideally, you want to run at the lowest tide of the day, or an hour or two around the lowest point, and stay close to the water's edge without getting your feet wet. Running at high tide leaves you with just soft, dry sand, as the tide is rising and taking over more and more of the beach. In beach communities, local newspapers print high and low tide times each day, and there are a couple online resources for tide charts, such as the one found here: tidesandcurrents.noaa.gov.
Check Your Knees
Some beaches have more slanted surfaces than others, but even the most level beaches, at the lowest tides, have some slant to them. And generally speaking, the higher the tide, the more angled the sand. Running on an angled surface can wreak havoc on your knees and hips. Make sure you run out and back. The unevenness isn't good for either leg, but it's better to put both legs through the paces than just one (for instance, running down a beach in one direction, then back on the road). But if you feel knee or hip pain, stick to the roads or level trails.
Deep Sand Workouts
Even if you can't get down to the beach at low tide for the hard-packed sand, running in deep sand once in a while is a great kick in the butt. Sand, like soft snow, gives with every step, so your leg muscles (hello, burning calves) will feel the burn. This can be really convenient, though, if you don't have much time for a run. Doing a short workout in deep sand will rarely leave you wishing you had more time for a longer run.
Gear Up
Sunscreen is a must, as running next to the water will give you the reflective rays as well as from directly overhead. Sunglasses and a hat or visor are also helpful in keeping you comfortable and focused on your run, instead of that fireball in the sky blinding you. And if you do a lot of beach running, look for shoes that have tight mesh over open mesh. A closed mesh can keep your shoes from filling up with sand when you're running on the soft stuff. And since it's sometimes inevitable to get a little sand in, wear socks that ward off blisters. Thin, synthetic options work well. And if your sock and shoe combo still isn't abating the rub, consider a lubricant like Sportslick or BodyGlide for long runs, especially long runs where your feet might get wet and sandy.
Take Advantage of Where you Are
Nothing caps off a great beach run better than a jump in the ocean (and thank goodness for quick-drying run apparel). A soak in the sea won't give you the same recovery benefits as an ice bath but it will undoubtedly leave you refreshed. And to take advantage of more surroundings, hop over piles of seaweed or other obstacles for agility training, and race the sun as it sets into the water for speedwork.
Outdoor inline skating is great and especially rewarding for those who brought their own gears. Yet more and more renters discovered the growing market, so chances are you can rent them out in matching size for you. Just ask around, try Carmen and Erich in Princess of Coron, they should be able to help you with this.
Right dowtown Coron near the pier where the island-hopping bankas leave, there is Lualhati Park, a tourist center, the market not far, and a nice place to hang out.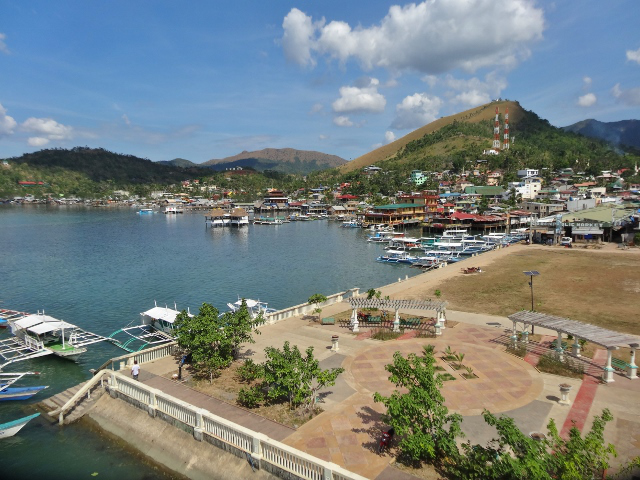 The Park is right on the edge of the water, the whole stretch being a reclamation area. You will find a zipline which is rather closed most of the time. However, for inline skaters, the park and the adjacent dirt area is an ideal location for "enjoying the ride". Sometimes in the morning when you are lucky you can watch small groups of outdoor inliners who decided to race the motocross trail on their skates which looks fun indeed. Again, check Erich he is always happy when some people accompany him to the plaza (dirt-area next to Luhalhati park).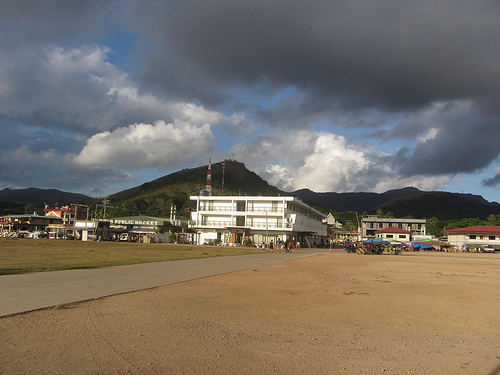 Scuba diving is great. Snorkeling is fun. But if you've got the need for 30-minutes or more of pure aquatic speed, nothing beats the fun and excitement aboard one of their powerful resort-use-only jet ski units. (Sangat Island Dive Resort)
Again, at the time of this research, more and more dive shops offer this thrilling experience to their guest, therefore is is always worth a shot to inquire with your local accomodation manager. They might be affiliated and offer you special rates. Special hint: ask Carmen & Erich (Princes of Coron) for Erich has the fastest Jet ski in Coron. Lucky whe he accompanies you on a ride and extra lucky when you can speed-up to 160 km/h and mega-lucky when your nerves can handle this. I got soooo scared, I admit.
Our fleet of Yamaha 4-stroke Wave Runners – the quietest and lowest emission jet skis on the market – have a top speed of 55 knots (more than 100 km/h) and, with a maximum load capacity of 240 kg., can comfortably carry up to two guests at a time. Riders must stay within view of the resort and are not allowed to venture into the shallow portions of our beachfront reefs or our neighboring coral gardens. (Sangat Island Dive Resort)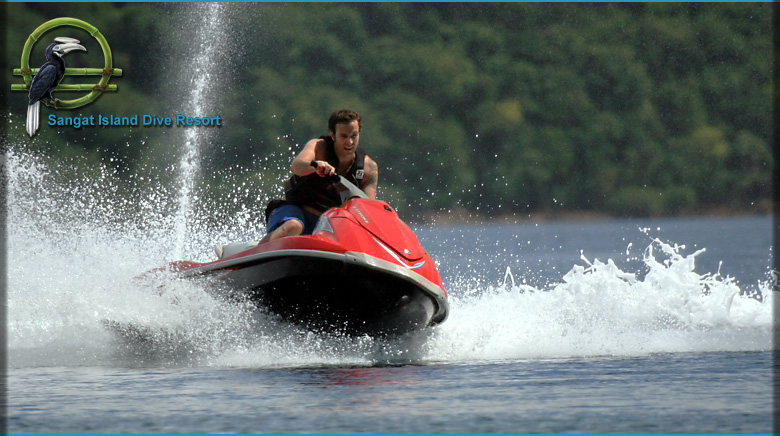 Again, at the time of this research, more and more dive shops offer this thrilling experience to their guest, therefore is is always worth a shot to inquire with your local accomodation manager. They might be affiliated and offer you special rates. Special hint: ask Carmen & Erich (Princes of Coron) for Erich has everything in Coron as long as it is fast, REAL fast.
(check tripadvisor.com taken in Conception, Busuanga)